Everyone knew Bryan was a player, except his wife.My friends Deb's husband Bryan was a 'playboy' when he was in his 20s and 30s. Now he's in his mid-40s he's got a lot less hair and a lot more fat on him but I think, in his eyes, he very much sees himself as the young Casanova that set hearts on fire back in the '90s.

I always dread having to catch up with Deb when it's a couples' night because, nine times out of ten, Bryan will behave like a total sleazebag and she will be absolutely oblivious to it. My partner thinks it's quite amusing and, whenever Bryan leans over to whisper something in my ear and stroke my back, takes delight in saying, "Mate, she's taken!" But, for some reason, Deb acts like nothing is going on. And it's not just me that Bryan makes a play for – I've seen him try to 'get it on' with two of our other friends .
Let's take Lara for example. She's an ex-model and, in her heyday, she dated at least two B-grade celebrities that I can recall; perhaps there were more. But, regardless, she was in that league and most D-grade celebrities would consider her way out of their league. But not Bryan. He's so delusional, he thinks every woman wants him.
DAILY DILEMMA- Can You Recover From A Friendship Breakup?203883
DAILY DILEMMA: Can You Recover From A Friendship Breakup?
Sneaky drink proposal
We were all at a 40th and Lara begged me to accompany her to the bathroom where she told me that Bryan had handed her his business card and told her he would love to catch up for a 'sneaky drink' next week. Lara had no intention of calling him. I thought about spilling the beans to Deb, but I was well aware of the 'shoot the messenger' examples, as I'd been burnt in the past by being the one bearing bad news.
"We spend the first 12 months of our children's lives teaching them to walk and talk, and the next 12 years telling them to sit down and shut up."- Phyllis Diller
Lara decided to keep her mouth shut… and so did I. But a couple of months later, I had a call from Bryan – he'd never called me before so I was very surprised to hear from him. He asked to meet for a coffee in the city near the office where I was working. He said, "It's important and it's about Deb but I need to talk to you in confidence."
Want more relationship reads? How about the woman who ghosted her friend all because of a baby name... Or the five minute relationship hack that changed my marriage.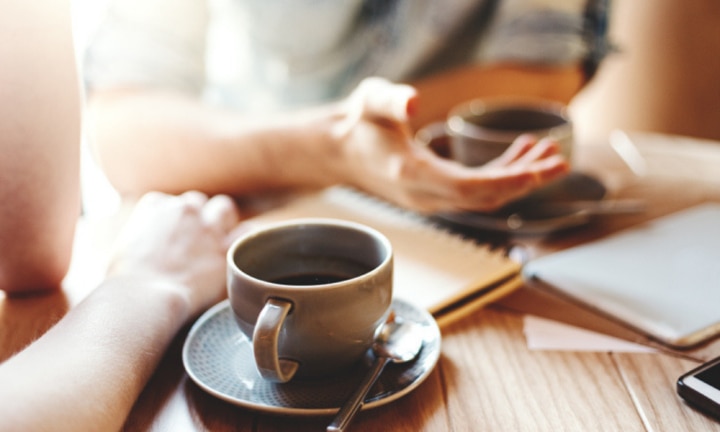 Is a secret coffee with your friend's husband a good idea? Photo: iStock.
I agreed to hide it from Deb
I was curious, so I agreed to see him. Were they about to go through a divorce? I'll admit it – I was intrigued and although it was difficult, I agreed not to let Deb know I was meeting up with her husband.
We caught up at a coffee shop and Bryan seemed very bright and cheery. In typical form, he was bragging about some great deals he recently closed and talking about an upcoming ski holiday. I asked him to cut to the chase.
"There is only one pretty child in the world, and every mother has it."- Chinese Proverb
"So, what's this all about, Bryan? Is Deb okay?" I asked. That's when he told me he wasn't in love with her and that he always had 'secret' feelings for me. I recall shaking my head and saying, "Umm, no way. Sorry, I just don't feel the same way."
He told me he was going to ask Deb for a divorce and that he wanted me to be the first to know. Why? So I could support my friend? Nope, he wanted me to be the first to know because I was his number one choice to be his new woman! I was absolutely horrified because, not only was I happily married at the time, even if I'd been single I wouldn't touch Bryan and his relentless arrogance with a barge pole.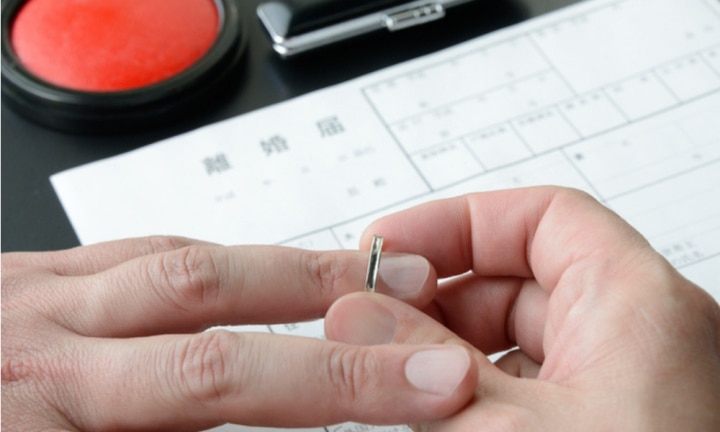 Bryan was planning his divorce and his wife's replacement. Picture: iStock.
It cost me my friendship
So I told him I was horrified and that I was going to let Deb know. But that cost me my friendship with Deb, who'd been a good friend for a decade. She never really spoke to me again. I think, in the back of her mind, she knew that I was just trying to do the right thing. But, with the chaos of divorce I became the collateral damage.
When she stopped returning my calls, I emailed her to let her know that there was no way I arranged a meeting with Bryan, nor did I ever behave in any way other than that of a friend. Perhaps she doesn't believe me. Or, even worse – perhaps Bryan tried to save face by telling her that I'd been the one making a move on him. Either way, I'll never know. She shut the door on our friendship thanks to her sleazy husband and that chapter of my life is gone for good.
Don't clip your child's wings. Your toddler's mission in life is to gain independence. So when she's developmentally capable of putting her toys away, clearing her plate from the table, and dressing herself, let her. Giving a child responsibility is good for her self-esteem (and your sanity!).